Creating artwork in 3D produces results unlike anything else. From the photorealistic to the fantastic, 3D is a skill and a pleasures.
Realtime models for games and simulation
Illustration
Architectural visualisation
bmw z4
This car is an example of high-poly modeling and rendering in a photorealistic fashion.
Made with Blender 3d and rendered with Yafray.
Other 3D Artwork
Experiments
We have fun experimenting with 3D, trying out new techniques and expanding our skills. The results can be crazy or cool, and usually interesting. Here's some examples.
Fish-eye lens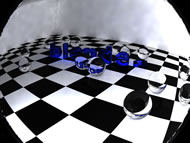 Blender's internal renderer can refract light through transparent objects for visual refraction. In this experiment I built a lens out of "glass" within blender, put it directly in front of the camera, and then rendered.
After some experimentation the result is almost like a fish-eye lens. Note that the cheques and wall lines are curved, whereas with a regular render these would be straight.
Yafray can do caustics and other funky light effects as well, so I played with it too. The photons and caustics lead to the colour bleeding from the black chequers onto the walls in the yafray render.
You can of course get other effects by changing the shape of the lens.
Modeled in Blender 2.42a
Blender 3D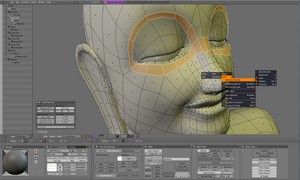 We use Blender 3D for most of our 3D work. Blender is an advanced open source 3D modeling and animation suite available at blender3d.com. It has excellent tools for building geometry, uv mapping, rendering, animation and more – it even comes with an integrated game engine.
Also, Blender's open-source nature and support for Python scripting means that exporters are available for many popular formats (like LWS, OBJ, 3DS, DXF etc) and importers or exporters for other formats (including proprietary formats, with permission) can be written upon request.
Please contact us if you would like any more information.