If you have a travel and tourism business, it's important that you hire a web designer who knows how to create for your industry. A travel and tourism company has many unique and specific needs, and the designer you choose to build your website should know how to create a product that meets those needs.
There is no one-size-fits-all approach to web design. Each business' website must speak something about the company and speak to the company's customers. For a travel and tourism business, the way in which the website speaks will be different from that of a school, non-profit, or apparel business.
As you plan for your travel and tourism website, the following are some things that you'll want to keep in mind and your designer will need to address.
Branding
Branding is critical when it comes to websites because it tells a site's visitors right away what type of company they've connected with. If you sell travel, it's not enough to brand yourself as simply a travel business. Your website must offer specifics about your services, the tours you provide, and the experience you offer. For instance, if you book honeymoons, your branding must clearly offer this information to your website visitor.
Do you focus on adventure, luxury, or budget travel? Through your branding, your website should tell the visitor about the types of trips that you offer. Do you plan foreign exchange or student work tours? Is your travel company one that markets to millennials with extra cash on their hands? Your branding, meaning your website's colors, the tone of your copy, and your logo, should immediately show the website visitor what they can expect from you.
Contact and Locations Pages
Your travel and tourism website should have an easy-to-find contact page, so that anyone wanting more information about your tours can reach you. It should also clearly list your location, if you have a brick and mortar travel business. When someone is inquiring about booking travel, and after they've made travel reservations, they want to know that you'll be easy to get a hold of should they have questions about their trip.
Traveling often involves a lot of money, and it sometimes comes with a bit of insecurity as a person visits a strange locale. To help your site visitors feel comfortable with you as a travel reservation agent, make sure your phone number, email address, social media links, directions to your location, and contact form are easy to find on your website.
Travel Packages and Deals
If you regularly sell travel packages or deals, you'll want them to appear on your website's home page. Discounts and specials shouldn't get buried where someone has to go digging for them. As you talk about your packages and deals, make sure you clearly identify blackout dates, booking deadlines, prices, and booking instructions.
Affiliations
Travel and tour companies that are affiliated with local, national, or global travel organizations should indicate these partnerships on their websites. Has a well-known travel-rating website given you an award of excellence? Put this recognition on your website as well. When you show that you regularly do business with top travel organizations, you build credibility and gain the trust of your website visitors. These recognitions should be placed on your website's home page in the sidebar or the footer.
Photo Gallery
There may not be a more effective way to entice your website visitors to book travel with you than including a photo gallery on your site. Choose professional photos reflecting several of the destinations you send your customers to. Make sure the file sizes of the photos are small, so that they load quickly whether a potential customer is viewing them on a computer or mobile device.
In addition to these must-haves, your travel and tourism website should include testimonials from happy customers and a call to action. Your website visitors should have clear instructions, via text or a button, that tells them what you want them to do next. If you need a new travel website, or if your website could use an upgrade so that it includes all of the points that we've mentioned, give us a call. We specialize in travel and tourism websites, and we're happy to create a beautiful and effective site for you.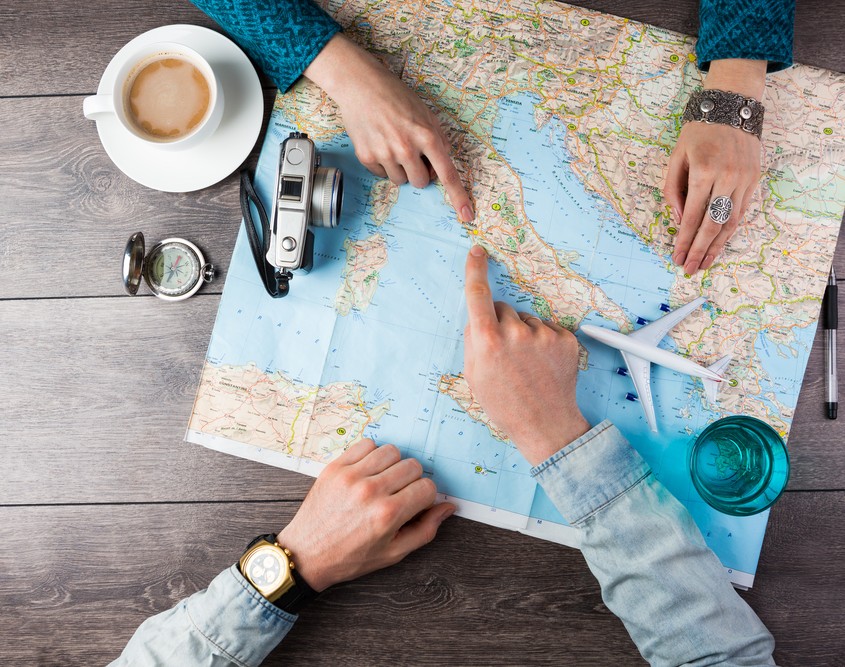 https://chocchip.com.au/wp-content/uploads/2015/12/shutterstock_145171495.jpg
667
1000
dev
https://chocchip.com.au/wp-content/uploads/2017/03/logo-white-transparent.png
dev
2015-12-15 09:37:37
2020-05-18 16:42:58
Website Design for Travel and Tourism