You've got an amazing new design that's built to rank in the search engines, your branding is taken care of, and your social media profiles are setup, so what now?
Now, you start driving traffic to your site so you can get to business!  
Without having a solid digital marketing strategy in place, though, you're going to be left wondering what to do next, and typically end up wasting your time (and possibly money).
Long gone are the days where you can rely on traditional marketing methods alone to get traffic coming into your business.  
These days, you can spend as little as a couple of hours a day working on your digital marketing strategy, and funnel more visitors into your website than you probably ever dreamed possible.
This article will help you fast track your way to seeing the traffic on your site start going upwards, and your monthly revenue increasing on a consistent basis. 
Included below is a finely tuned, 7 step strategy designed to help you get your newly built website started off on the right track:
Step #1: Make sure your pages are optimised for the search engines.
Step #2: Get your social media taken care of, then utilise it.
Step #3: Setup paid advertising campaigns, then track and analyze the results.
Step #4: Find sites willing to let you to buy banner or native advertising.
Step #5: Create a direct mail campaign targeted to your local clientele.
Step #6: Get creative, and then let the media know about it.
Step #7: Create listings on Craigslist that are targeted to your offer.
Search engine optimization is priority #1.
Every day, customers are searching for businesses just like yours.  Except, right now, they are probably finding your competition.
When you're ranking in the top of the search results, the leads and customers are going to come to your website on autopilot.
While it does cost money to get to the top, once you're there, the strategy begins paying for itself — often, multiple times over, month after month.  
The amount of leads you can generate from high placement in the search engines more than pays for the cost of getting there, as long as you're doing it right.
The first step to ranking higher in the search results is to optimize each page on your site for a specific keyword.  Every page should have it's own keyword to target, to ensure you're casting the widest net possible, and have the highest chances of completely taking over your market.
To get started, visit Google's Adwords Keyword Planner.  Enter in a few basic keywords that you think customers would use to find your site, and the Keyword Planner will return a list of other keywords that they deem relevant to your business.

You can also input your website's address and have Google generate ideas based off of the content that's already on your pages, waiting to be optimised to rank.  Then, all you have to do is go through each page and optimise them so that the keyword appears in the right places.
Google's generally accepted best practices dictate where you should be placing the keywords in your code and content.  The most effective locations on your pages are in the following areas:
Title tag.

H1, H2, and H3 tags.

Within the first few sentences.

Within the last few sentences.

Inside of the "alt" text in an image on the page.

Internal links pointing to the page on the rest of your site.
Now, keep in mind.  It's easy to over-optimise your site.  By placing the keyword into the content too often, you could end up getting the page penalised, effectively keeping it from ranking on the first page.
If you notice that your pages seem to be stuck on the 2nd page of the search results and won't move any higher, go back through the content and de-optimise it. Remove a keyword, or two in the content, or the internal links, and then analyze the results after a few weeks.  
De-optimizing the pages is often enough to move them into the first page of the search results.  This sounds counter-intuitive, but actively checking for over-optimised pages is a strategy Google uses to keep the spammers from being able to actively game the system.
Social media isn't going to get any smaller, and requires a unique approach.
Social media platforms, such as Facebook, Twitter, Instagram, and Pinterest tend to get a bad wrap, as far as obtaining new customers goes, but we're here to tell you that, with the right approach, you can tap into the millions of active visitors that spend their days on these sites.
Each platform has a different strategy that you need to use to get the most traction from it.  
Here's a breakdown of the types of visitors you're going to approach while you're on each site:
Facebook: Facebook is a treasure trove for reaching the masses as quickly as possible.  To get started, make sure that the content you're going to be sharing is worthy of getting clicked, and then create a fan page surrounding your business.  
Once your page is complete, you can either pay Facebook to "boost" it for you, or you can join groups related to your business and promote the content yourself, for free.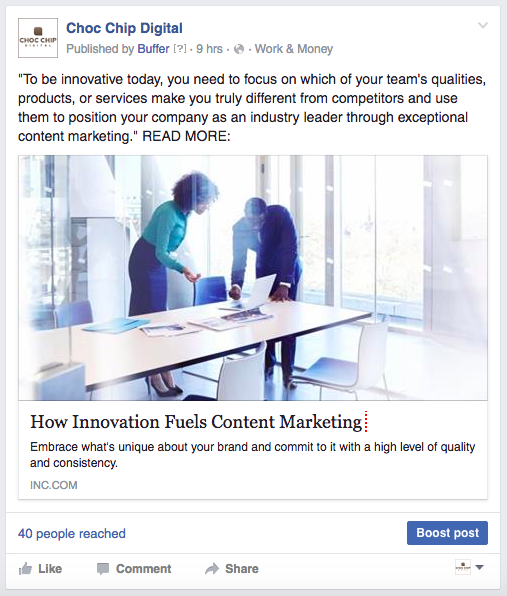 Twitter: Twitter is great for getting in touch with bloggers and other business owners that already have a substantial following.  
Instead of simply promoting your content, business, products, and services, spend your time on Twitter connecting with the people who will have the biggest impact on moving their own subscriber base towards your website.
A lot of bloggers and marketers hang out on Twitter, giving you the perfect opportunity to tap into ready made audiences looking for businesses just like yours.
Instagram: Instagram is quickly rising as one of the superpowers in social media.  
If you run a visually based business, and can provide photos of the products or services you offer, get on board as quickly as you can.  Use hash tags, and find the influencers who have the largest following, then work on getting your message in front of them.
Pinterest: If your target market is women, Pinterest is a gold mine for you.  However, even if your target market is  primarily men, you can still create content geared towards women that will get them to either make a purchase for the man in their life, or get the man in their life interested in your business.
Paid advertising on platforms outside of Google's Adwords are becoming more important.
There's no denying that Google's Adwords advertising program is one of the best ways to instantly tap into your target market. However, in the past few years, it's gotten incredibly expensive to advertise.
The expense of posting your ads to the top of Google's search results pages means that you not only need to have a well designed website, and a solid sales funnel backed by proven data, but that you also need to track, analyze, and optimise every single advertisement you're spending money on.
Advertising in Adwords gives you both instant brand recognition, as well as direct sales, but there are other platforms that can give you nearly the same results, without the heavy expenditures .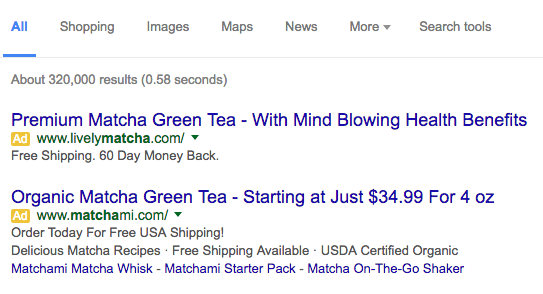 If you have a properly built sales funnel, and are already spending on Adwords, or realised how expensive it can be, here are some cheaper alternatives you can use that will deliver the same instant results that Google does.  You can use the cheaper sources of traffic to test your campaign and then transfer it to AdWords.
Bing Ads: Bing Ads works exactly like Adwords does.  You choose the keywords that you want to bid on, and then when users enter those keywords into the search engines.
AdRoll: AdRoll keeps track of the visitors who have already come to your website, and then inserts a "cookie" onto their computer that follows them around the internet.  
Anytime an advertisement is displayed that AdRoll has control over, your ads will be put in front of the user again, and again.  This works great for keeping your products or services fresh in the customer's mind.
7Search: 7search is great for mobile traffic.  If you know that your potential customers may be browsing around on their mobile devices, and you can entice them to visit through to your mobile optimised or responsive website, it's a great source of traffic.  
The rates on 7search are highly affordable, making it easy to test your ad copy without blowing through your entire advertising budget in one day.
Outbrain: Outbrain places your ads directly underneath the content on large, authoritative sites, and blends your ads in with other "related posts" that users may already be inclined to click on.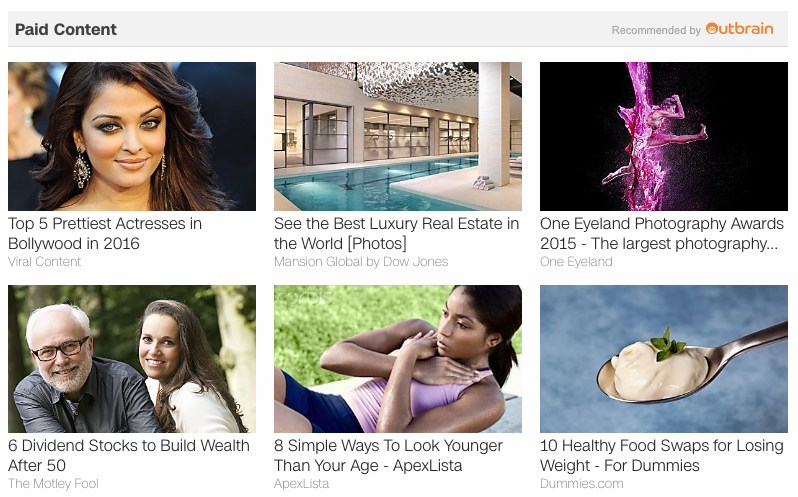 That means your click-through rate is going to be through the roof.  However, it also requires that you have a solid content marketing strategy in place, in order to convert these leads into sales.
Display advertising on sites in your market is an affordable solution.
If you're advertising through Outbrain, you're already going to be familiar with display advertising.  
If you're not, what display advertising means is to buy banner spots on sites that are related to your business, or sites where your potential customers spend their time.
A lot of sites will allow you to place advertisements, for a small fee.  Placing your banner advertisements, or even advertorials (in some cases) on these sites has two distinct benefits.
First, you're going to tap into an existing audience and start funneling them over to your own business website.  Second, you're going to be gaining authoritative links from sites that are related to your own, which helps increase your rankings in the search engines.
To get started finding sites that allow you to place ads, go through the search results using the following queries.  
Your niche "advertise with us"

Your niche "sponsored post"

Your niche "sponsor a post"

Your niche "advertise on this site"
Remember to replace "your niche" with the topics that are relevant to your business.  For instance, if your website is based around travel products or services, replace "your niche" with "travel" and other related keywords.
When you find sites that allow you to place an advertisement, reach out to them with an offer.  In most cases, you can get away with sponsoring a post for a one time fee of $50 to $200, depending on the size of the site you're attempting to advertise on, and the size of their existing audience.
If you're local focused, don't rule out direct mail. EDDM mail is effective still.
The United States Postal Service has been feeling the crunch during tough economic times.  
To help stay profitable and competitive, they've opened the doors to what's known as "Every Door Direct Mail".  It's a program that allows you to get your advertisements into mailboxes in your local area for much less than what you would normally pay for postage.
To get started, you're going to have to figure out a list of the zip codes that you want to target with your advertising.  Then, you'll have to put together a brochure that will be sent to generalised "Postal Customers".  
You will need to include a certain type of labeling on your mailers, so before you actually have the brochures or mailers printed, make sure to read through this guide, directly from the USPS: https://www.usps.com/business/pdf/quick-reference-guide.pdf
Once you have these two completed, reach out to your local post office.  Let them know that you are interested in the EDDM program, and that you already have the mailers ready to go.  They will ask you how many mailers, and which zip codes you want them to go to.  
After dropping off your mailers with them, it will take 2-3 weeks for full delivery to be finalised.  During this time, your incoming leads will continue to rise, until they peak towards the end of the mailing.
Get the media talking, and watch your traffic start climbing rapidly.
Think you have what it takes to "go viral"?  
If you have a bit of creativity, or happen to know someone who does, you can get your business in front of the local media outlets and create a story that takes off on social media like a wildfire.  
Even something as small as sponsoring a local cub scouts pack, or hosting a charity event for senior citizens in your small town is enough to get the media talking about your business — putting you in front of thousands of people.
Before you set out to make your business the next big headline in the local news, though, you need to sit down and think about a proper strategy, how you're going to pull it off, and any potential backlash that may come from it as a result.
A lot of times, going viral can leave your business without the manpower available to handle the amount of inquiries and orders coming in, which can, in turn, create a customer service nightmare for you.  This would have the internet talking about how bad your customer service is, instead of speaking your praises from the rooftops.
When you have your campaign together, you can either reach out to local media stations to let them know about what you're doing, or hire a "press release" service that will spread your message across the internet for you.  Once you have the message in place, you can give it a bit of help by "boosting" the post on Facebook.
Craigslist is still a viable solution to driving hot, ready to buy traffic to your site.
When you think of Craigslist, what pops into your mind?  
Most times, it's going to be listing free stuff on the curb for someone in your area to come pick up.  Or, perhaps, even trying to find a car or truck for sale in your local area.  
Maybe even some of the less than savory sections of the site, if you've read about a few of the recent horror stories Craigslist has been putting out.
It's these horror stories that have given rise to the massive amounts of negativity surrounding Craigslist.  However, if you're able to get past them, though, there is still a large, active market of hot, ready to buy leads that you can funnel into your website.
To get started, browse to the sections of Craigslist that pertain to your products or services.  
Then, craft a targeted message, and come up with a specific offer that's exclusive to Craigslist users, post your listing in the proper area, and wait for the calls and emails to start coming in.
You want to make sure that you're not spamming, though.  
You also need to make sure that you're actively monitoring your listings, because competitors will, sometimes, flag the advertisements as spam and Craigslist will automatically remove them without doing any further investigation.
The platform can be cut-throat at times, but it is still a viable choice for delivering hot leads that are looking specifically for what you have to offer.  If you get the right offer in front of them, and make sure that your listing stays active, it's a huge source of free leads.
Now, it's time for you to start implementing each strategy.
Each step that we've just laid out for you requires a unique approach in order to get the most traction.  That means you can't just take a blanket approach and hope for the best.  You've got to go into each with a precise plan of attack to keep from wasting time and money.
To sum up the overall strategy provided, here is a list of quick tips to help you get the most out of each piece of the puzzle.
Search Engine Optimization
Build a list of keywords that are specific to the products and services you offer, and your local area (if you're promoting to local clientele).  Then, optimise each page of your website to include these keywords, making sure not to over-optimise and potentially get your pages penalised. Search Engine Optimization is a complex topic, so sometimes its best to hire an SEO expert that can help you obtain the results you are after.
Social Media Marketing
Develop your social profiles on each of the four major platforms: Facebook, Twitter, Instagram, and Pinterest.  Then, use Facebook to reach critical mass by "boosting" your content, and Twitter to get in front of influential people who have a target audience similar to the type of customers you want to bring into your business.
Next, jump on Instagram and start getting visual with your products and services.  Post pictures, and find hash tags that are related to your business, then start promoting your content.  
Finally, get on Pinterest and create "boards" that contain your "pins" and help female based audiences either purchase your products and services, or recommend them to the men in their life.
Pay Per Click Advertising
To instantly place your website at the top of the search engine's results pages, consider placing advertisements on major platforms such as Bing Ads, AdRoll, Outbrain, and 7Search.  
You can use the same keyword lists that you generated when you began the search engine optimisation of your website.
Native Advertising
To gain high quality links pointing to your website that will help increase your organic search rankings, as well as send targeted, qualified traffic to your website, reach out to other websites that are related to your own, and have a target audience that looks similar to the types of customers you're marketing to.  
Contact the webmasters by using the search queries we've provided, and request placement of "native" or "banner advertising".  Remember that a one-off fee is always preferred to a monthly cost for placement.
Every Door Direct Mail
Getting into your customer's mailbox is easy with the United States Postal Service's Every Door Direct Mail (EDDM) program.  Put together a brochure, flyer, or mailing piece that contains a message specific to your audience, with an offer that they can't refuse.  Then have the flyers designed and printed with the proper labeling, and drop them off with your local Post Office.
Press Releases
Get the media talking about a small campaign, fundraiser, or charitable event that you're running for your local area.  Spend time making sure that you're able to handle the new influx of business, and that your marketing campaign is going to shine a good light on your company.  
Then reach out to a press release service, or your local media offices and journalists to let them know about what you're doing.
Craigslist Leads
Craigslist, even having a bad rap, still provides businesses just like yours with a huge source of fresh leads that are ready to buy.  
If you position your products and services in the right categories, monitor your listings to ensure they stay alive and don't get flagged as spam, and give the users of the site an offer that they can't refuse, your business will tap Craigslist power to generate new customers.
Use the strategies we've laid out for you to start seeing leads coming into your website every day.
https://chocchip.com.au/wp-content/uploads/2016/05/AdobeStock_80389571_WM.jpeg
561
1000
supermonkeystrength
https://chocchip.com.au/wp-content/uploads/2017/03/logo-white-transparent.png
supermonkeystrength
2016-05-31 18:24:44
2020-05-18 16:42:57
How To Bring Customers Into Your New Website